connect your teams and routines in
one platform for safety, maintenance and operations
connect all your workflows in
one platform for safety, maintenance and operations
Enabling team collaboration
Mobaro gives you all the essential functions you need to efficiently stay on top of safety, maintenance and operations anywhere in your attraction. From the backend web app, management create and distribute content for field staff. The cloud-connected mobile app allows e.g. engineers, ride operators and service personnel to conduct inspections, receive and create tasks and to stay in touch with management even from the remote ends of the facility.
This is where work is planned and distributed to the mobile app users. The Mobaro CMMS is software as a service. By logging in to our web application you can create, edit and manage any safety, maintenance routine centrally. Even if you are away from the office.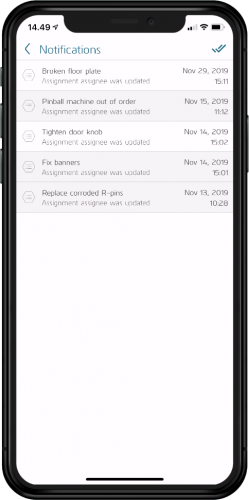 All the essential tools you need in the palm of your hand while conducting checks and tasks. The Mobaro mobile app allows field staff, technicians, ride operators and service personnel to communicate with each other and management in a structured and effective way. 
Whether performing preopening safety checks, hourly hygiene checks, tasks related to maintenance, or any operational routine where a checklist is needed, Mobaro is your effective digital alternative to traditional inspection tools. Not only will it enhance your attraction safety regime, your entire business will reach a new level of transparency between departments and their individual and shared responsibilities.
Checklists
Conduct checks anywhere in your facility with intelligent and user-friendly checklists.
Assignments
Create or receive work orders on the fly and attach images to communicate clearly.
Dashboards
You can get dashboards that facilitate overview and decision making.
Schedules
With Mobaro you can automate recurring checks in any pattern and prompt users to take action.
Library
Access all the relevant instructions from the library or as attachments to checklists.
Operations
Register downtime on rides and compile insight on overall performance.
Media
Adding and annotating images allows you to effectively prevent misunderstandings.

Locations
Easily monitor status of any part of your facility with to access key operational data.