connect your teams and routines in
one platform for safety, maintenance and operations
connect all your workflows in
one platform for safety, maintenance and operations
Enabling team collaboration
Mobaro gives you all the essential functions you need to efficiently stay on top of safety, maintenance and operations anywhere in your attraction. From the backend web app, management create and distribute content for field staff. The cloud-connected mobile app allows e.g. engineers, ride operators and service personnel to conduct inspections, receive and create tasks and to stay in touch with management even from the remote ends of the facility.
This is where work is planned and distributed to the mobile app users. The Mobaro CMMS is software as a service. By logging in to our web application you can create, edit and manage any safety, maintenance routine centrally. Even if you are away from the office.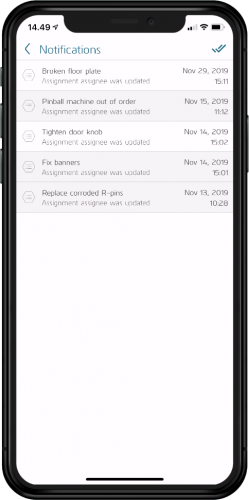 Todas las herramientas necesarias al alcance de su mano para realizar listas de verificación y tareas. La aplicación móvil de Mobaro permite que el personal de campo, los técnicos, operarios de atracciones y el personal de servicio se comuniquen entre sí y con la administración de una manera estructurada y eficiente. 
Whether performing preopening safety checks, hourly hygiene checks, tasks related to maintenance, or any operational routine where a checklist is needed, Mobaro is your effective digital alternative to traditional inspection tools. Not only will it enhance your attraction safety regime, your entire business will reach a new level of transparency between departments and their individual and shared responsibilities.
Listas de verificación
Conduct checks anywhere in your facility with intelligent and user-friendly checklists.
Tareas
Cree o reciba órdenes de trabajo sobre la marcha y adjunte imágenes para comunicarse claramente.
Paneles de control
You can get dashboards that facilitate overview and decision making.
Planificación
Con Mobaro puedes automate recurring checks in any pattern and prompt user.
Library
Acceda a todos los documentos relevantes desde la biblioteca o como archivos adjuntos a las listas de verificación.
Funcionamiento
Registre el tiempo de inactividad en las atracciones y obtenga información sobre el rendimiento general.
Multimedia
Agregar y anotar imágenes le permitirá prevenir malentendidos.

Ubicaciones
Supervise fácilmente el estado de cualquier parte de su instalación accediendo a datos operativos clave.